Quick

and

easy

analytics for apps.

Understand who and how is using your product. Set it up in a few minutes and instantly get useful information on an intuitive dashboard.
Works in web applications, desktop and mobile apps.

Events, funnels, white-label and more.

Plug-and-play intuitive dashboards.

Lightweight and privacy-friendly.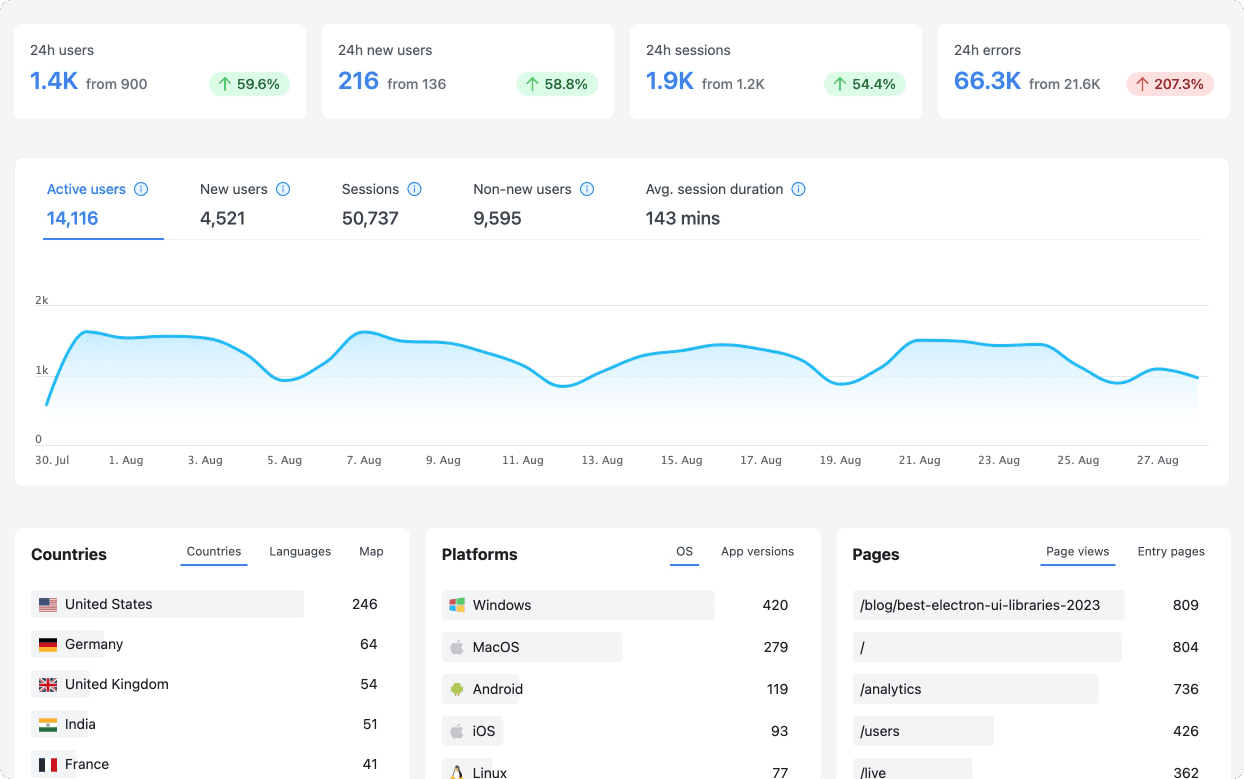 Integrate in minutes
Core analytics to see how your product is doing
Track active users, live view, top pages, app version, offline data, with a quick SDK integration.
Real-time view.

Track who is using your app in real time, their actions, sessions and zoom-in on any user.

Error reporting.

Get a headstart on bugs and fix them with the stacktrace. Get notified when a new error occurs.

White-label and API.

Provide privacy-friendly and valuable analytics to your customers through an intuitive, white-labeled dashboard .You can also use our API to build your own dashboards.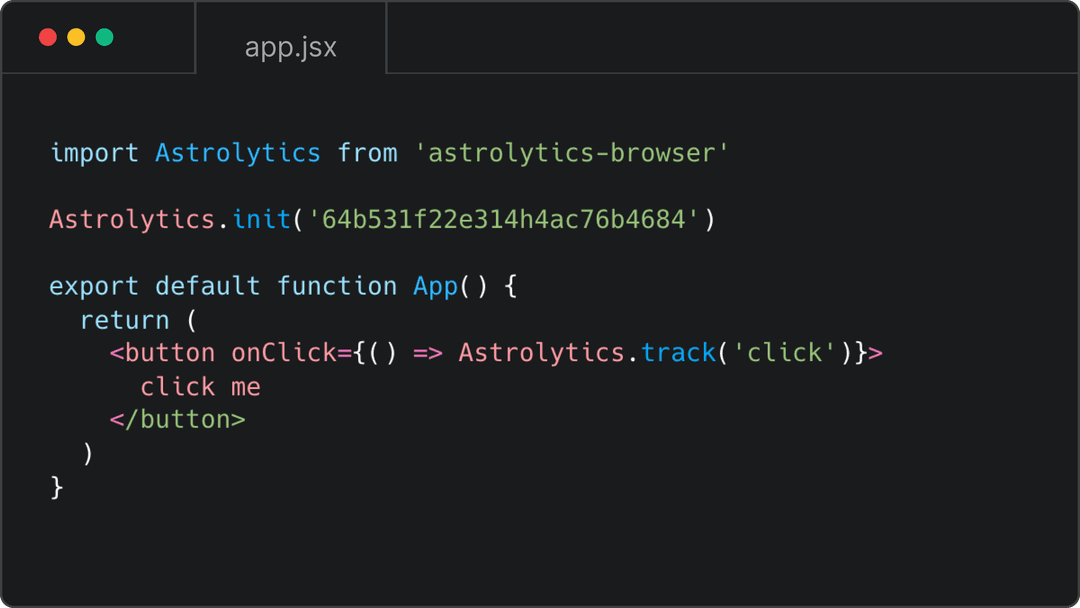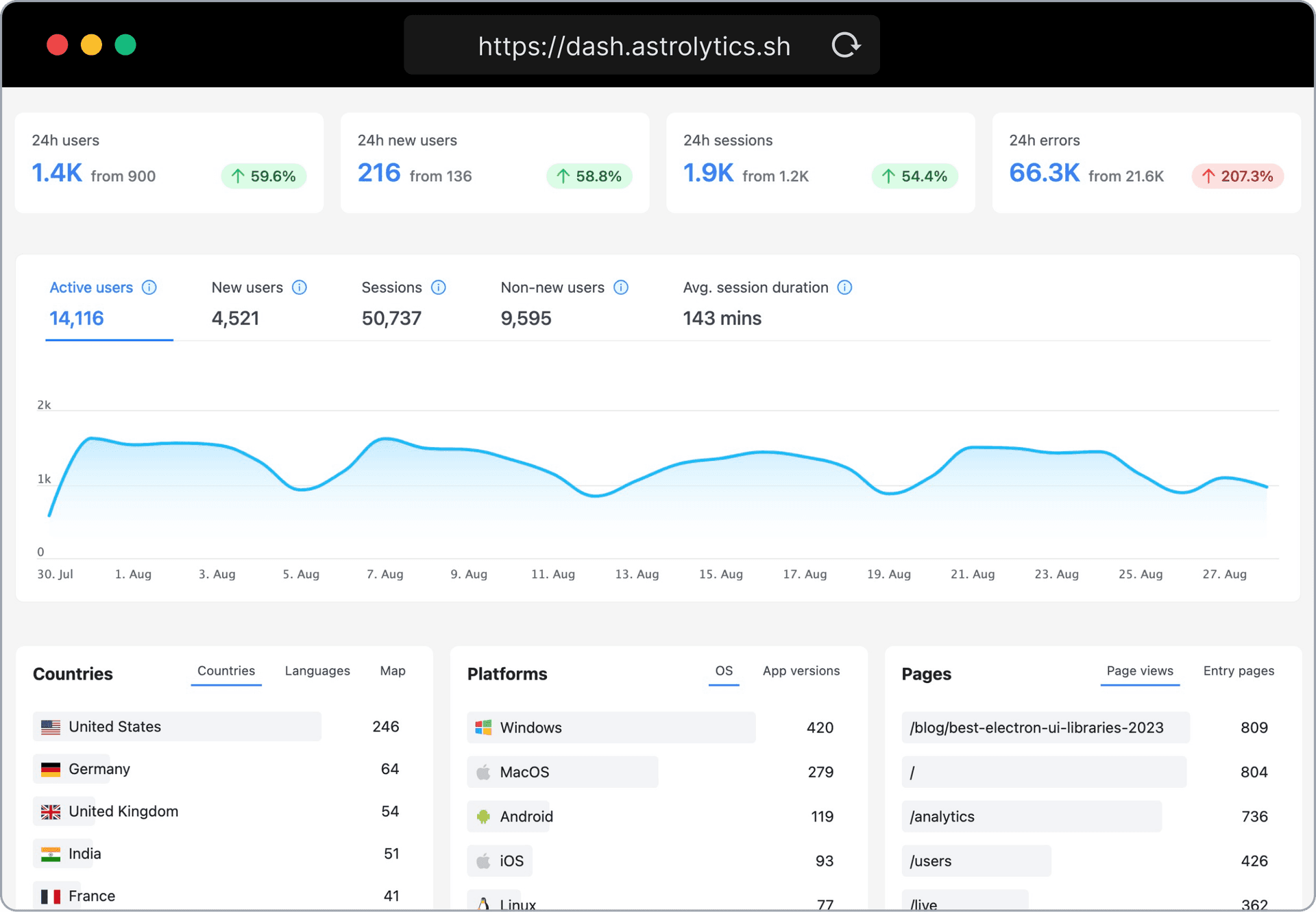 Works with your favorite frameworks
Electron, Tauri, React, Vue, Swift, Python and more. We support a lot of frameworks and languages, and we're constantly adding more.
Explore our docs
Used by apps and developers around the world
Hosted in EU 🇪🇺, made for the world 🌎.
Events tracked.

500MM+

Are using Astrolytics.

400+ apps

Errors tracked.

500k+
Frequently asked questions
Have a different question and can't find the answer you're looking for? Reach out to our support team by sending us an email to hello@astrolytics.io and we'll get back to you as soon as we can.
If I'm not happy, can I cancel my subscription?

Of course, cancel anytime yourself from your dashboard if you are not satisfied. If you cancel before your trial ends you won't be billed.

Is my data safe with Astrolytics?

We do not sell data to any third party. You can ask us anytime that all your data be erased from our servers.

What data is collected?

We list all the data collected on this page. We only collect the necessary data and only use it to provide you with analytics.

Can I export my data?

Yes, all your data can be exported via the API or downloaded as CSV from the dashboard.

Does tracking continue offline?

Yes. The sdk takes care of caching the data in the client while waiting for an internet connection. As soon as the client connects, data is synced.

Understand how well your product is doing today
Integrate in minutes and get started with our 30-day free trial.
Simple, useful information at first glance.
Bug tracking.
No need for cookie banners.
Track events with custom data.
Modules for the main languages that'll make integrating a breeze.
Identify users and follow their actions through your app.